About Adelante Madison
We support and endorse diverse voices to create political action.
Adelante Madison Board of Directors
Adelante Madison began after President Gloria Reyes' successful run for Madison School Board in spring of 2018. Although she won, there were expected and unexpected barriers every step of the way.The founding members of Adelante emerged from that experience, determined to address issues of racism, equity, and access
Gloria Reyes
President of the Board
Co-Founder
Currently President of the Madison Metropolitan School Board, Gloria was elected in 2018 against an entrenched incumbent. Previously, Gloria served as a Deputy Mayor and as a detective in the Madison Police Department where she co-founded Amigos en Azul.
Photo by Marcus Miles
Juan José Lopéz
Vice President
Co-Founder
Juan José Lopéz has held a variety of positions in the community, including serving on the Board of Education, as Chair for United Migrant Opportunity Services, and is a founding member of the Latino Chamber of Commerce of Dane County and the Latino Professionals Association of Greater Madison. Today he mentors young people in the community, and advocates for Latino/a issues.
Salvador Carranza
Treasurer
Co-Founder
Salvador is a dedicated community leader with a focus on education and Latino/a issues. Currently he serves as a senior policy advisor for the University of Wisconsin system, and was a founding member of the Latino Education Council of Dane County.
Oscar Mireles
Secretary
Co-Founder
Oscar Mireles has been involved in several voter registration, community organizing and political activism work over four decades. In In June 12,1983, he was a delegate to the Democratic Party of Wisconsin, and participated in the Presidential Straw Poll where California US Senator Alan Cranston defeated US Senator Hubert Humphrey near his home state of Minnesota, and reinvigorating Cranston's national campaign for President. Mireles was involved with the Midwest Hispanic Voter Registration Project and assisted with voter registration efforts in Racine, Wisconsin. In 2020, Mireles was a member of Todos Con Biden, the Wisconsin Hispanic Leadership Committee to elect Biden/Harris for President.
Jonathan Gramling
Member-at-Large
Jonathan Gramling, the publisher and editor of The Capital City Hues, has been involved in civil rights and electoral politics for 45 years. Gramling worked on the congressional campaign of Evan Doss, an independent African American candidate in Mississippi. Although Doss lost the election, his candidacy, along with the U.S. Senate candidacy of Charles Evers, forever altered the relationship of the Mississippi Democratic Party with the African American community. Gramling has been involved in presidential, school board and aldermanic campaigns since the early 1990s. Jonathan is also the recipient of the 2010 King Heritage Award from the State of Wisconsin.
Frances Huntley-Cooper
Member-at-Large
Two time Fitchburg alder (1987-91), Frances made history (1991-1993) as Wisconsin's first elected African-American Mayor. Elected to serve her fifth and final 3 year term, Frances serves as chair for the Madison College Board of Trustees. Frances was elected as DNC delegate 5 times (during 1988 – 2020), serving as a WI 2020 Biden Delegate. Frances is a proud 50 year member of Alpha Kappa Alpha Sorority, Inc. and HBCU graduate of NCATSU.
Jan Sternbach
Administrator
Jan worked in higher education administration and social services for almost 30 years, with a side in political campaigns starting in earnest in the late 1990's. She considers herself lucky to have learned from a dream team of volunteers who won a number of city wide school board elections/re-elections, and defeated a recall. She had no intention of returning to campaigning and met with Adelante Board chair Gloria Reyes to tell her so – and walked out of the meeting having committed to Gloria's election. Four more successful elections later, she is a consultant providing training and administrative support to Adelante. Pronouns she/her/hers.
OUR MISSION:
We are committed to increasing the number of people of color in elected and administrative positions on all levels of decision-making on the local, state and national governmental levels who further policies and laws that advance health and welfare of communities of color.
OUR VALUES:
1. We support candidates who reflect the values and heritages of our communities of color.
2. We believe in non-violence: physically and emotionally.
3. We believe in the dignity of all people and believe in treating people with respect regardless of their political views.
Adelante Madison in the News
The Capital City Hues 11/04/19 Adelante Candidates Reception
The Capital City Hues 11/04/19 Adelante Candidates Reception
READ MORE >>
Adelante Madison will be featured on Thursday's "Latinx TalkBack on Black and Latinx Politics in Our Community"
"There are so many good things happening between Black and Latino activists and we often just don't see it. We don't even celebrate it and we often don't know about it because we are busy in our own lives," Araceli Esparza tells Madison365. "But I think the videos are helping to create that bridge more and more. The younger people watch videos and they don't watch television as much."
READ MORE >>
Adelante announces Spring 2020 Election endorsements
Adelante's Board announced their endorsements for 12 candidates ahead of the Spring 2020 Election. "We have a few people that we will be focusing on and supporting moving through the November election," Adelante Co-founder Gloria Reyes told Madison365.
READ MORE >>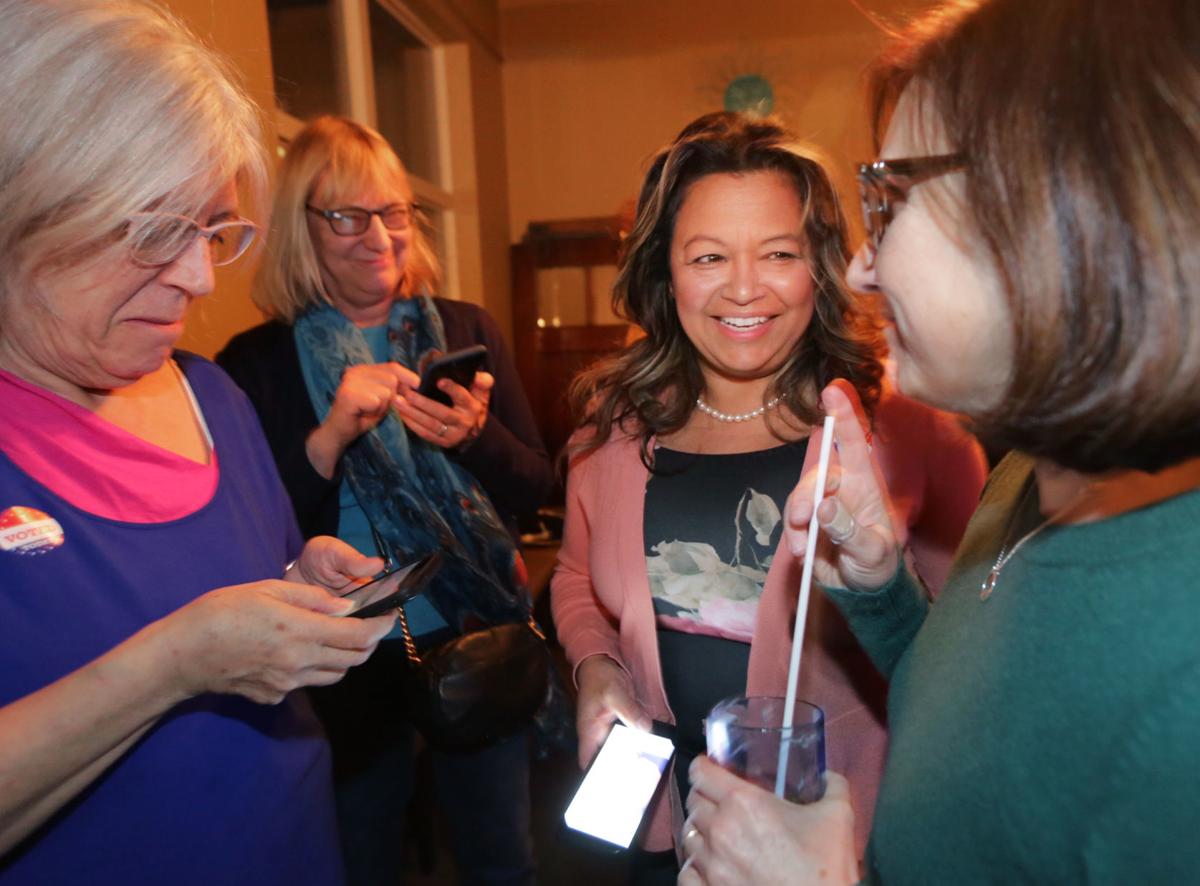 New political group Adelante seeks to support candidates of color for local office
Months before Gloria Reyes won a seat on the Madison School Board in April 2018, she faced a different kind of challenge — getting people to believe in and work for her campaign against then-incumbent Anna Moffit.
READ MORE >>
The Capital City Hues 01/28/19 Adelante Political Action Group Equity in Representation
When Gloria Reyes, a Madison deputy mayor, ran for the Madison Metropolitan School District board in Spring 2018, it was relatively unknown territory for a Latino candidate. The terms of Santiago Rosas on the Madison city council and Juan José López on the Madison school board had ended over a decade ago and lots had happened since then. Michael Flores ran successfully for the school board partially because he was a union member and had a natural constituency. In some ways, Reyes stood as an individual.
READ MORE >>
Lt. Governor Mandela Barnes to Highlight Adelante Celebration of Representation Tonight
"Representation is very important. I was first exposed to the lack of diversity while I was working in the mayor's office and looking around at the Dane County Board of Supervisors, the Madison Common Council and the school board," says Gloria Reyes. "We would have one or two representations of people of color in some seats – and they played a critical role – but we needed more.
READ MORE >>
Adelante Scores Big Wins For Madison Candidates of Color in Spring Elections; Looks to Keep Growing
Historically, there has not been much of a support structure for candidates of color in Madison who decide that they want to take on the daunting task of running for political office. And, not surprisingly, historically, there have not been many successful candidates of color in Madison.
READ MORE >>